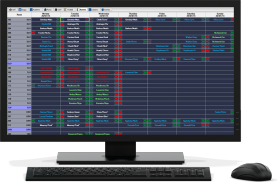 The Elite Booking module allows you to streamline your reservations procedure, enhancing customer service levels and maximising the return on your valuable real estate.
Almost every bookable activity can be accommodated within Elite, including tee time bookings, Classes and Lessons, Events, Leisure Bookings, Spa treatment & therapist reservations.
Individual desktops can be configured with specific views and privileges to enable staff to easily see availability and make a confirmed booking in a matter of seconds. A single screen makes it possible to use every terminal throughout the organisation to service your customers booking requests.
Charges are automatically calculated based on the status of the customer and the day and time of play. These charges are passed directly into the point of sale system ensuring no revenue is lost.
ESP also has an Online & Mobile Bookings product, details for which can be found here
Single Centralised Booking System
Book all of your activities in one place
From Golf, PMS, Spa, Classes or anything that you need to book. Control the arrival of your guests and control no shows.Our cohesive system gives you strict financial control of any bookable activity accessible from any onsite PoS.
Seamless integration with Point Of Sale
Booking transactions are processed through any Point of Sale. Elite provides a fully auditable booking process reducing human error.
Multi Site Availability Search
Allow your customers to search across multiple sites for availability.
Elite also incorporates a booking platform for multi site businesses, allowing your staff and customers to view bookable events at any of your sites from any of your PoS terminals.
Automatic Price Calculation
Suitable price generation
Preconfigured price structure can be generated to include visitor category, time and date parameters.
Multiple room configuration
Elite offers the unique ability to configure multiple room bookings, including multi-area rooms which can be divided into more than one room. The system will prevent overbooking of any of the areas.
Variable package pricing
Sell packages which contain multiple elements of revenue, whilst showing the customer total price, the revenue split is correctly apportioned to the applicable nominal account, improving transaction accuracy.
Automatic stock relief
Automatically relieves stocks from retail and food and beverage stock control systems. Invoice & revenue is correctly apportioned to the nominal accounts.
Itinerary in booking
Elite gives you the ability to create a customised itinerary from scratch or from pre-written templates. Stored against the booking the itinerary can be distributed by mail or email.
Accounts with swipe cards – valid only for the day
Create a unique sales ledger account for a group booking. This account can be left open for the duration of the event, additional items can be added via any Point of Sale, subject to predetermined credit limits.
One single invoice produced for an entire event
On the conclusion of any event, the account can be summarised using the statement and a detailed invoice will be produced for the entire event.
Create single bookings that encompass any event
Allow your guests to tailor packages to suit their requirements, whether that means more than one time or more than one of your facilities.