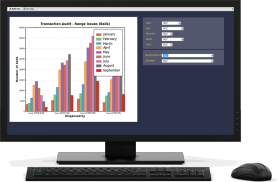 Driving Range Integration
Working closely with ball dispenser manufacturers such as European Golf Machinery and Range Servant, ESP have developed an interactive link to the driving range ball dispenser.
Control ball dispensing by issuing PIN/Barcode from the electronic point of sale or topping up a contactless card, eliminating the need for tokens or cash at the ball dispenser.
Using Elite Driving Range Integration gives you the tools to manage basket size in every way possible. Changing basket size by time/day or manipulating basket price for range card holders whilst producing dispensing reports in a breeze.
Single use PIN number
Replace tokens with a one time pin code for customer convenience in a cashless environment.
One single card for all activities
Providing your customers with a single card to use across all facilities encourages loyalty and enhances spend.
Range card credit
Don't just sell individual baskets; range credit improves cash flow, productivity and the efficiency of your site.
Time Based Dispensing
Use a flexible pricing structure varying the basket size to incentivise customers to use the range during quieter times.
Range Management reporting
Maximise range yield by making informed decisions regarding pricing and usage.
Enables the operator at the Point of Sale to verify the guest room number, the guest name, and which of the checked in guests are being served. This detail is available in real time automatically as soon as the guest is checked-in at the front desk.
Post charges from bars, restaurants, retail outlets and spa or leisure reception – charges will be added to guest room accounts as soon as the sale is made eliminating the chance of charges being missed from room bills.