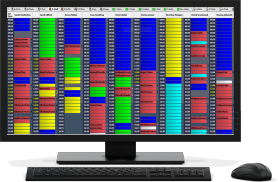 The complexities of spa treatment bookings are easily managed with the Elite Spa Bookings module.
The software can determine whether the selected treatment requires a specific therapist, treatment room or item of equipment and will check availability before confirming the booking.
Therapists can also be allocated their own treatment room, ensuring additional control over the booking screen availability.
The option to view diaries by therapist, room, day or week ensures that available time is easily found. These views can be configured individually for each desktop, ensuring that the appropriate view is always displayed.
Multiple Dimensional Bookings
Multi dimensional reservations
Speed up service by booking therapist, room, equipment and treatment at the same time.
Extensive diary functions
Enhance productivity and security with a single place for all bookings.
Unlimited treatments
There are no limits to the number of treatments that you can configure, delivering support for your current and future product offering.
Time controlled
Treatments have a pre-determined duration ensuring your spa is fully utilized at all times.
Flexible pricing
Adopt a creative and dynamic pricing structure based on the type of customer assisting yield and repeat visits.
Skills linked booking
Allocate qualified therapists based on the treatments skill requirements eliminating booking mistakes.
Spa Packages
Create attractive packages which will appeal to your customers and simplify your product offering.
Specific treatment room selection
Automated room booking for specific types of treatment or therapist, speeds up the booking process.
Multiple therapist diary view
Match the customer's preference, book a specific therapist for a treatment offering a personalised service.
Unallocated therapist
Booking many months ahead, when the exact staff rota may not be known, without assigning a specific therapist.
Treatment restrictions
Automatically restrict the number of treatments a therapist can conduct in any given period, reducing health & safety issues related to workload.
Therapist commission
Incentivise therapist product sales, and structure commission by tracking products sold at POS by a specific therapist.
Treatment room booking management
Automated suitability of room or equipment type based on the treatment offered.
Equipment control
Automatic equipment assignment insures the appropriate equipment is booked for the treatment.
Usage and utilisation reports
Produce reports detailing analysis of room and equipment usage at the touch of a button.