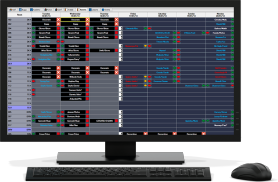 The Elite Property Management module provides a sophisticated tool, which is capable of simultaneously booking accommodation, leisure activities and golf from one convenient screen.
Present your guests with one card on arrival; this will allow room access and the ability to charge goods from any department including Food & Beverage and Retail to a single guest room account.
The Elite Property Management module integrates to in-room controls, such as telephony, heating and lighting software. Charges associated with in-room services, e.g. Telephone Charges, are directly posted to the room account. On check-out, the guest is presented with one clear statement detailing all expenditure over the duration of their stay.
Multiple booking platform
Simultaneously book accommodation, leisure and other activities improving speed of service.
Multifunctional inventory Configuration
Elite's versatility allows accommodation, lodges or pitches to be configured to suit your business.
Automatic rate calculation
Improve your yield management by automatically calculating the price for the reserved period.
Room charging from POS
Enhance your customer service by allowing your guests to charge all of their activities to one bill.
Key card technology
Improve transaction security by allowing your customer to use the room card as a charge card.
Group bookings
Reduce complexity of larger reservations by using a single folio to book multiple rooms.
Single sales ledger
Streamline administration by using the same sales ledger throughout the application.