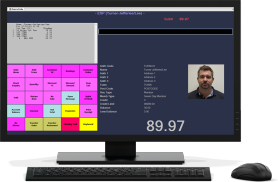 The Elite Management System has full stock control capabilities not only for Retail stock but also for Food & Beverage.
Elites Point of Sale module has Retail Stock Control built in as standard functionality which included functions to process Inventory Orders for stock deliveries, Full or Partial stock check procedures and Period End reporting functionality; line by line movements within the period are recorded providing a detailed report for every stocked unit.
Elite's stock management module can transfer stock between locations and provide a full audit trail of all movements. Each stock record has fields to record the minimum and maximum stocking levels. When stock reaches low levels, the system can automatically create orders to replenish the stock to the maximum level – Elite does this in real time considering any orders already placed.
Product Management
Each product line has its own record recording a comprehensive history of purchases as well as important sales figures enabling you to concentrate on selling whilst Elite reports your margins.
Realtime Stock Levels
Elite records stock movements in realtime ensuring that you can make effective stock management decisions.
ReOrdering
Elite monitors when stock reaches low levels and automatically create orders to replenish the stock to the maximum level to ensure you're never out of stock.
Reduce Overstocking
Elite manages your stock movement ensuring that you don't overstock on slow moving product lines and increasing your margins by reducing dead stock.
Purchase Order Creation
Create purchase orders then send to your suppliers to manage your order exposure and quickly manage inbound orders.
Full & Partial Stock Checks
Elite enables full and partial stock checks as part of your regular regimes which means that you can accurately report at period end.
Multiple Stocking Areas
Elite enables multiple stocking areas to be managed independently which means that multiple venues or stocking areas can make use of the same stock records reducing administration time.
Stock Transfer
Moving stock in between venues enables accurate stock holding to be recorded and ensures an audit trail of stock movements between departments.