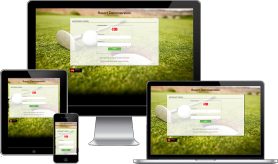 Online and Mobile Bookings
ESP's online booking solution provides live updates to the booking screen when a booking has been made, allowing you to maximise your revenue by taking reservations from every possible source in 'real time'.
You decide on which days and at which times (if any) to make your facilities available, with full control over the variable availability of visitor bookings compared to member bookings. A suite of reports provide details of the bookings generated to allow analysis of day, time and activity utilisation.
Payment can be taken by credit/debit card at the same time the booking is confirmed, via ESP's secure website. Payments are then credited directly to your nominated bank account.
Online At My Leisure Portal
Customised Appearance
Customise the booking portal to match your Clubs own website. Allowing your club to maintain it's own look and feel enhancing their brand and improving the customer journey.
Member and visitor bookings
Enhances member and visitor booking experience and reduces club administration.Providing a consistent and easy to understand web experience for all players.
Internet Price Band
Increased revenue with attractive price bands. Allows the site to incentivise customers to use web bookings with a different pricing policy.
Promotional Codes
Increased revenue by identifying target markets – Personalised discount for your venue without devaluing your brand.
Use of promo code gives you accurate measurements of your marketing spend. May be used to incentivise customers to book again after playing (bounceback) and to measure the effectiveness of marketing campaigns.
Product Bundles
Provides a means to incentivise buyers to purchase without resorting to discounts and introduces an opportunity for incremental spend. Bundles functionality encourage up sell to other product offerings
Online visitor registration
Generate lead database for future marketing activity.
Real time link to membership database
Prevents lapsed members from booking providing increased security, revenue and control. Provides a seamless experience for members and simplifies club administration.
Members Profile
Update personal details online, club related documents including handicap certificate and statement of account. View booking history and future bookings. This function reduces staff administration and improves customer service.
Member Information Online
Gives members easy and secure access to their club information including handicap certificate, levy/account balance and past/future bookings.
Mobile bookings
Allows guests to conveniently book events through an App installed on their smartphone. Increasing booking activity and Improving customer service.
Diary co-ordination
Automatically adds booking to customers personal diary. Improving profitability by reducing no shows.