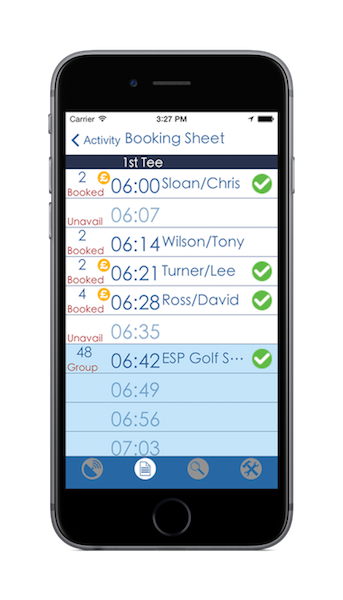 As the world readies itself for mobile internet use to surpass desktop internet use ESP offers you amazing mobile app based technology to keep your business ahead of the curve.
Open up your business to mobile functionality so your guests and visitors can easily access your services on the go.
Take advantage of the mobile tech revolution.
Table Service
Take the PoS directly to the table to improve customer service.
Wireless iPad device
Streamline the customer journey in your F&B operation by directing the order straight from the table to the bar or kitchen printer.
Seamless Integration
Elite Order seamlessly integrates into the Elite Management system so all the security, data and reporting functionality you expect from Elite are still there at the push of a button.
Mobile Optimised Internet Booking
Mobile Optimised Booking Portal
The Online Booking solution is optimized for mobiles, tablets and desktops to provide an easy to use online reservation platform that your members and guests will use time and again.
Real Time Bookings
Elite's Online Booking solution operates in real-time instantaneously updating local availability, completely eliminating any chance of a double booking.
No Limits
You're not restricted to booking tee times online, other activities such as events, lessons, competitions, classes and function room bookings can also be booked increasing online revenues which reduce operating overhead.
Easily control availability
Full control over of both member and guest availability simplifies the management of online bookings.
Increase Cash Flow
Taking a deposit at the time the booking is made will increase your cash flow and reduce no show rate.
Reporting
A suite of reports provides details of the bookings made to allow analysis of day, time and activity utilization.
Wireless iPad Device
Utilise the full capabilities of the Elite Management System on an iPad connected to your wireless network allows staff to operate without the need to be behind a desk.
Reduce Admin Backlog
Improve customer service by taking Elite with you as you can complete a process while you're with the customer.