Have you signed up to our new and improved ESP Online Tutorials?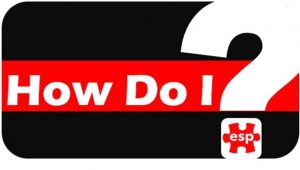 *********** LIMITED AVAILBILITY ************
ESP'S Online Tutorials Are Back and Better!
Conducted by ESP's very own Bob Howe, the How Do I webinar training sessions are back to help you get the most out of your Elite system. Designed to provide you with the industry's best practices and greater system knowledge, they will also enable you to maximise the use of your Elite system and assist in the running of your club.
We are pleased to announce the forthcoming tutorial:
How Do I: The Pricing Matrix
Tuesday 4th December 2018
11:00am

*All training tutorials refer to our V6 Elite solution. If you would like to discuss upgrading, please contact your account manager.
**There will be other users of the Elite Software on the web call, and therefore cannot be tailored to your individual site but will be a general guide.
***Sessions usually last up to an hour followed by a brief Q&A.
ESP Leisure Ltd Europa House, 1 Kimpton Link, Kimpton Road Sutton, Surrey SM3 9QP United Kingdom
www.e-s-p.com 020 8251 5100 @ESPLeisure ESP Leisure Ltd