ESP Talks to Kelvin Pugh from Stonebridge GC
Set in the grounds of the historic Packington Estate is Stonebridge Golf Club, a 27-hole championship golf course and wedding, conference & event venue on the outskirts of Coventry. Stonebridge has been using the ESP Elite system since 2013, and their General Manager Mr Kelvin Pugh has been on a nonstop mission enhancing all aspects of the venue.
We caught up with Kelvin to find out how it's going and how he is benefiting from using the ESP Elite system at Stonebridge.
How long have you now been at Stonebridge?
I started at Stonebridge in 2011 as Golf Sales Manager then in 2015 I was promoted to General Manager.
So Kelvin, 2019 looks to be another busy year. What have you been working on?
We have recently undertaken a major refurbishment of our Spike Bar and our WC's. This has finished the ground floor refurbishment of the club making the club more welcoming to members and visitors as well as improving the building operationally meaning staff can work more efficiently.
What are your plans for Stonebridge for the rest of the year?
We are looking forward to showing off our new bar! The main thing we want to promote now is that we are more than just a golf club and help increase the business lines away from the golf so that the club isn't dependent on golf to be profitable. In saying that, we have some great plans for improving the course that we are working on and we will soon be launching a new academy and driving range via Midlands Golf whom already operate our retail business.
What makes Stonebridge stand out from the many other golf venues in the area?
Here at Stonebridge we're fortunate to have 3 loops of 9 holes meaning we effectively have 3 different 18s for members and visitors to play. This enables us to offer more tee times in prime slots as well as better variety. With our refurb we also have a modern and fresh looking bar as well as a variety of great conference and function rooms!
You have had the Elite Engage module for just over a year, how have you seen it improve the way you communicate to customers and drive revenues?
With Elite Engage all our members now don't just receive emails confirming the tee time they have booked but this even sends them a reminder which means they don't need to keep ringing the Pro Shop to check their tee time! It also sends them an email when they are low on bar levy or low on Flexible Membership credits, adding to this they can now log into the members area to top up their bar card or their membership credits via the link in the email. This has helped increase top ups for both areas. We have also just introduced a new member email that ESP produced on request from us, 60 days after a member joins they will receive an automated email from us asking how their membership is going and if there is anything we can do to help. This will aid in the retention and welcome process for our new members. As a proactive golf club looking to communicate with customers we are really seeing the benefit of the investment.
What are some of the benefits of using Elite Engage for sites thinking of getting this installed?
Most importantly to me Engage improves the member experience allowing them to access a members profile where they can view their booking history, top up their credits and view a notice board that we update regularly. Add to this the ease in which a member can top up bar levy and membership credits and it gives the member much more control over their membership experience with us which is vital when people expect everything accessible via their phone.
Recently you completed the Pilot for the EliteLive App. How did you find it?
Very easy! Our members loved trialling it and have kept asking if they can continue to use the pilot app. Accessing the profile and booking tee times from the app was so smooth and will create a much slicker member experience.
As an experienced Operator, how do you find the Elite system fits your business needs?
The Elite system allows all elements of our business to operate from one management system, from tee sheet and room inventory management to stock control and POS for both bar and retail, as GM I can access it all from my laptop wherever I am!
How would you rate the service provided from ESP?
I've always been impressed with the service from account manager to the service desk. Any issues are resolved promptly allowing the business to operate smoothly.
What would you say to venues looking to install ESP Elite System?
Don't just take my word for it, see it for yourself and if you are in my area, give me a call and you can arrange to see Elite and my operation for yourself.
Happy Golfing!!!
Kelvin
Kelvin and the new look bar at Stonebridge.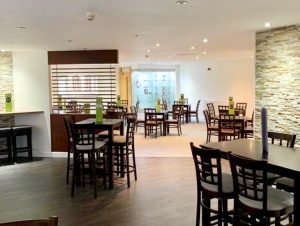 The new look and feel for the Spike Bar works really well and has been very well received by the members and customers alike.
For more information about ESP Leisure and the Elite Software please contact us at sales@e-s-p.com